Top
March's Alumni Spotlight
Meet Brian Poznanski!
Learning To Open New Doors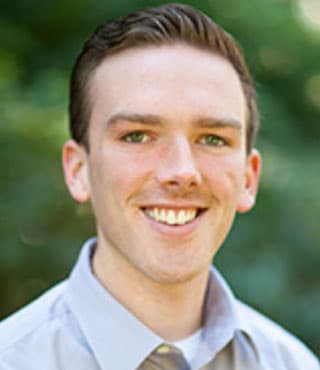 In many cases, it's those earliest memories that can leave the greatest impression on us as we grow older. The lessons we learn in childhood stick with us for years afterward, and can inform who we are as adults. For Brian Poznanski, that meant bringing a fundamental respect for equality among all people to his professional life – and that's been a key factor in bringing Brian to the success he enjoys today working in education.
As a World Academy student, Brian learned the true value of the "Golden Rule" – to treat others the way you'd like to be treated. This has stuck with Brian through the years, into careers as a politician and in higher education, and it's all thanks to those early, formative years right here at World Academy. Plus, in the time he was here, Brian built a few strong friendships along the way that continue to last a lifetime.
Off To A Smart Start
Brian started his time here at World Academy back when we were still called "Small World." Having finished as a Kindergarten student (and with a younger sister soon to follow close behind), Brian continued on with our After School program through third grade. There, he continued to build friendships that continue even now, all while enjoying the freedom of childhood – fond memories that he still carries with him to this day.
"The After School program really had no hard curriculum; it was more of a place for us to just be kids, and to have fun in a safe and accepting environment," said Brian, remembering those early days at World. "Being a kid, and having a bit of structured guidance to just play and be a kid, was really valuable to me. I still look back on those days fondly."
It was in those fond-remembered days of After School that, according to Brian, he really learned the value of empathy in how he treats others. Interacting with and getting to know other students of different races, ethnicities, and backgrounds, helped Brian appreciate the differences that make each of us unique – while simultaneously teaching him about the common bonds that connect us all. As the years went by, this powerful lesson shaped the successful politician and, later, educator he would go on to become.
Building On A Solid Foundation
With positivity, inclusivity, and self-confidence now integral parts of his vocabulary, Brian moved on from our World and into his future. A native of Nashua, he went on to attend local Nashua Catholic Regional Junior High and Bishop Guertin High School before moving on to the respected St. Anselm college.
Brian went on to earn a degree in Politics in 2011 – but not before earning a seat in 2008 as the youngest-serving representative in the New Hampshire State House of Representatives at the time. In his two years in office, Brian represented Hillsborough District 26 and focused on what he called the "three E's:" education, the economy and the environment. But after learning a lot during his term in office – and after completing his studies at St. Anselm – Brian moved on to his next chapter: a role working in admissions at nearby Regis College, before enrolling in an MB program at Boston University in 2013.
Now an Assistant Director of Admissions at BU, Brian juggles a wide range of responsibilities, from national travel to intensive review processes to help the school find the very best minds. But regardless of where he may be or what he may be doing, one central lesson sticks with him as a present reminder of his days at World Academy: that "Golden Rule," to treat others with kindness, dignity, and respect in all things. This has played a big role in his professional development, and all started in those early days at After School.
Looking Ahead, While Always Thinking Back
Talk to Brian about his experience at World Academy and it's clear that he fondly remembers those days as important ones in his formative years.
"It's the culture there. There're so many teachers there who have committed their careers there – they have you as a student for even only one year, and they actually know you and remember you," said Brian. "I remember going back about ten years after graduating and still having teachers I remembered stop and say hi. It's a great experience; they really care about each individual student."
As for incoming students today, Brian suggests that everyone simply "have fun, and enjoy the moment," and to definitely "take advantage of your resources, your opportunities, and the people around you." That, he says, is the key to making the most of the memories, moments, and milestones experienced at World Academy.
If your child is ready to get started on the path to success from the cradle to their career, get in contact with the staff here at World Academy, and stop by for a visit to see what we offer to make sure all of our students succeed and achieve in the years to come.