Top
December's Alumni Spotlight
Say Hi To Calley Goulet!
A Year In The Life, Becoming A Stronger Person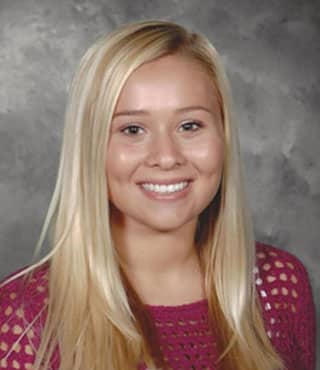 For many students, changing schools late into middle school might seem like a tough transition. At that age, students can face the struggles of attending a new school – like meeting new people and finding your way around – on top of the struggles of being a young adult and trying to discover who they really are. But for World Academy alumna Calley Goulet, dealing with this transition was just the first step on the path to becoming a stronger and more resilient her.
Calley came to World Academy in 2014 for eighth grade, a late transition that most students wouldn't be too quick to take on. Calley had struggled in a previous school and, after half a year of homeschool in seventh grade, decided it was time to get back to being around her peers. So she enrolled in World Academy for grade eight – and with that, she would start her journey toward becoming the person she is today.
"What I liked about World Academy was that everybody was really welcoming," she said, remembering those early days as a new student in unfamiliar territory. "I had enrolled because it's actually just a few minutes down the road from my house, but once I started to meet some friends and teachers I knew I would enjoy my time there."
Calley spent only a year as a student of World Academy, but in that time she experienced some of her fondest memories of school were made in that single year. She dove into sports, playing soccer that fall, basketball in the winter, and track and field in the spring. Her soccer team would actually go on to win the state championship for her division – an experience that fueled her passion for competitive sports into high school, where she now plays field hockey as part of the Nashua High School South team.
As for her curriculum, Calley found the challenge that World Academy offers to be both tough and rewarding, with the right emphasis on good study habits and work pace that would set her up to succeed in high school.
"I really like the learning style at World Academy," she said. "It was tough, but a great experience. Plus, the classes are similar in style to the ones I take in high school now, so the experience definitely got me ready for my AP classes at Nashua South."
Calley also discovered her own passion for travel while at World Academy – first, with the Washington D.C. trip that still sticks out as a fun memory, but also from her own trip to Turks and Caicos in the Caribbean that February. The latter opened Calley's eyes to the joy that comes from travelling, and inspired in her a desire to enter the hospitality industry in and after her upcoming college studies.
Calley still keeps in touch with her friends from that year at World Academy, and together they'll reminisce over fond memories from the time they spent there. She also remembers forging strong relationships with teachers like Ms. Pam Morganelli, who teaches eighth grade language arts and who regularly volunteered as a confidant and friendly ear for Calley during her time there. It was those personal connections, along with the tight-knit environment, that really helped Calley to shine in school.
"Even though I only went to World Academy for one year, it was definitely one of my best years," said Calley. "From meeting new friends, playing sports, connecting with teachers, and getting prepared for high school, World Academy was a great experience for me."
Calley also advises current and prospective World Academy students to take their academics seriously, since it can have a tangible, positive impact on your study and learning habits once you reach high school.
"I'd tell any current student to work hard and take it seriously. That being said, it's still a lot of fun and you meet a lot of really great people," she said.
Calley plans to continue her studies at Nashua South and then move onto college, where she'll study hospitality. But no matter where her path may take her in the future, she'll always carry her experience at World Academy with her.