Top
November's Alumni Spotlight
Get to Know Harrison McCulloch!
Learning To Make Lasting Connections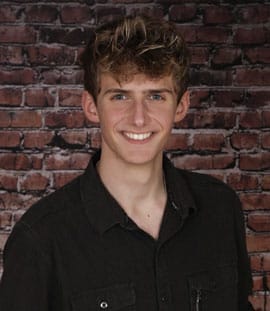 Early childhood can be a great time to make friends, build relationships, and create great memories. But for some students, coming out of the shell and learning to make friends isn't always an easy thing to do – and for students like Harrison McCulloch, it took the great experiences he had at World Academy to help him grow into the successful and personable adult he is today.
Harrison spent grades three through five at World Academy before graduating in 2009. When he first arrived, he was admittedly a bit of a shy young man – but that all changed once he started meeting other students.
Coming Out Of His Shell And Making Fast Friends
"At World Academy, I really developed much better social skills," remembers Harrison of his entrance into our academic community. "I entered the school as an introvert but I found it easy to open up to students and faculty. I had no issues going up to someone in the school and talking to them. It was an environment that allowed me to know and feel comfortable around everyone."
It was these early experiences meeting his new peers and teachers – plus the social skills – that he built along the way – that taught Harrison to talk to and understand different kinds of people from different backgrounds. These are skills he continues to use today as a student at Southern New Hampshire University, where he is studying for a Business Degree in Marketing as part of the class of 2020. There, he's been able to travel to England twice (once for the Scottish Independence Elections).
"Had I not begun to develop these skills at World, I probably would not be sitting here responding to you as a personable business major. Social skills are a necessity in the real world, and World Academy excels in developing those skills," said Harrison.
Memories That Won't Be Soon Forgotten
While Harrison has a lot of fond memories from his time at World Academy, the one that sticks out the most would most likely be the after school program. In that safe, constructive space, Harrison remembers afternoons playing, spending time with friends and just being "a kid" at the end of the school day.
As for a favorite teacher?
"I would have to take note of Marie Kirk, who I've recently learned is the current Assistant Principal at World Academy. She welcomed me into the class with open arms and I couldn't be more grateful to have met her. She is one of the sweetest teachers I've ever had," he said.
Looking Back Fondly, And Looking Ahead With Hope
Today, Harrison keeps in touch with nearly all of his classmates from World Academy, whether it's through friendships on Facebook, or even fun events like the small reunion party they had a few years ago.
"It's amazing that we all keep in touch to this day. To any student considering an education at World Academy, my one piece of advice is to put yourself out there," Harrison advises. "You will be surrounded by many other great students with very diverse backgrounds and experiences. Take your time to meet them and learn as much as you can about them. The friendships you make at World Academy will carry on long past your graduation, so make the most of every opportunity while you're there!"