Top
October's Alumni Spotlight
Say Hello to Samantha Varn!
Learning To Reach For The Stars, And Becoming Your True You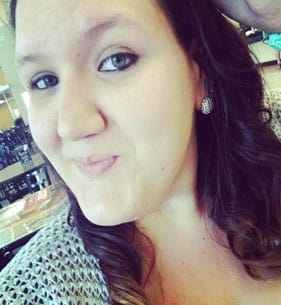 When Samantha Varn walked through the doors on her very first day at World Academy, she might not have known just how many great experiences and fond memories lie ahead. But those days taught her to reach for the stars in all she does, and that's made an impact that's taken her far and wide, and lasted her a lifetime.
Samantha graduated from World Academy (then called Small World) in 1997, having progressed from first to third grade when third was still the highest grade available for education at the school. She moved on to public school before reaching Nashua High School South, and then eventually to Nashua Community College to study small business management and massage therapy.
"While attending World Academy the wonderful staff of teachers helped me build my confidence not only educationally but also socially," said Samantha, reflecting on her time as a student. "They taught to go for my dreams and that failure is just another opportunity to learn more and grow. I took this thought process throughout my life and it has always been helpful to achieve all my goals and be successful, including but not limited to high school and college."
Building on a Strong Foundation
For Samantha, one of the best parts about attending World Academy was that, unlike other schools, she was able to attend year-round. That meant making plenty of friends, checking out cool local areas, and learning more about herself and where she envisioned herself going in the years to follow.
"The time I spent at World Academy was and is a big, wonderful part of my life," she said. "The foundations taught to me have always helped me reach for the stars and be successful in all I do."
After graduating in 1997, Samantha continued to attend before and after school programs at World Academy for the following two years, while she attended public school. This gave her the opportunity to continue to build connections and great experiences while continuing her education beyond her time as a student.
In high school, Samantha was lucky enough to travel to Canada, where she explored Montreal as part of a trip with her French class. She was a National Honors Society scholar, a member of the Mayor's Task Force, and even learned job skills thanks to the MyTurn Program.
Samantha has since finished her studies at Nassau Community College by completing the Massage Therapy Program, which earned her an Associate's Degree and a spot on the Dean's List.
Connections That Last a Lifetime
Thinking back to her days at World Academy, there are many teachers who had an impact on Samantha's life, but a few teachers stick out to her as greatly important. The first is Martha Maye, who now serves as the school's Assistant Director but at the time was in charge of the Before and After School program.
"She has always felt like more of a family member to me. She's not just one of my previous teachers," said Samantha fondly. "She made every day fun and exciting, and was always there for me. Her warm smile and kind words helped me become who I am and I will always have a special place in my heart for her."
Another woman Samantha holds close to her heart is Laurie Collins, currently the music teacher. Samantha had Laurie as her first, second and third grade teacher.
"I truly enjoyed learning from Ms. Collins," said Samantha. "She helped me excel in all areas of learning and life and she also always made learning fun. With her gentle demeanor you never felt bad about making mistakes. She is who I model myself after whenever I teach anything. She will never be forgotten."
The biggest impact Samantha received, however, was from World Academy founder Kathy Nelson. Without her kindness and generosity, Samantha says, she would have never been able to attend this wonderful school.
"My mother 'Miss Connie' was a teacher there and could have never afforded the special and unique education given there without Kathy's help. I will never forget what she did for me and my family. Even when I was a child she was so warm and welcoming always willing to listen and offer kind wisdom. She is the anchor of that institution and I hope to be as wonderful to someone as she was to me," said Samantha.
Drawing From Great Experiences
Samantha has more plans to travel, and would like to go back to school to continue her studies in the near future. She also has her sights set on a family of her own. And although Samantha may not keep in touch with many current students of World Academy, she says she's sure that the amazing experience they are receiving is the same if not more special than her own.
"My advice to current or prospective students is to take advantage of every opportunity given," Samantha advises. "Make as many connections as possible. Do not have any regrets. With the kindness and wisdom of all teachers and staff at World Academy you can achieve any goal and become whoever you dream to be."