Top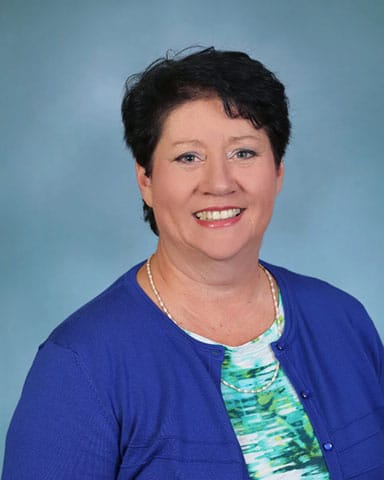 Paula Jacobson
ECE Support Teacher / Preschool Threes Afternoon Teacher
Paula has been a teacher at World Academy since 2012. She graduated from the University of Massachusetts in Boston with a B.A. in Art, and more recently from Hesser College in Nashua with a Lead Teacher Certificate. She is certified in CPR and First Aid, as well as water safety. She continues to take professional development workshops to expand her knowledge and keep up-to-date with new teaching models.
Paula grew up just outside of Boston, MA, and in 1987 she and her husband were married and moved to Merrimack, where they currently reside. She has one daughter who is currently the Native Pollinator Ecologist at SUNY-ESF in Syracuse, New York.  She enjoys baking and cooking for family and friends, learning about the history of New England, and has recently delved into genealogy. Her favorite season is autumn, for which she waits all year!
Paula's philosophy is that children learn best by doing – by interacting with the world around them, hands-on. She believes her role as an early childhood educator is to provide an environment that is both safe and interesting, so that inquisitive minds can fully explore and problem-solve. Therefore, she strives to have a flexible curriculum, so that children's spontaneous interests and curiosities can be encouraged and pursued. Learning that takes place outdoors in nature is invaluable, and since children have an innate desire to question the world around them and to figure out the how's and why's of their environment, her goal is to provide them the freedom, tools, and guidance to do just that. She places a great emphasis on incorporating the natural world into the curriculum and igniting the spark of learning that already exists in every child. Introducing children to the diversity of the natural world fosters an understanding and respect for all living things. Children learn tolerance and acceptance when teachers open up their world to things that are new and different. Relating them back to familiar experiences in their own lives is crucial to nurturing this. Embracing diversity in nature will carry over to the cultural and ethnic diversity of the world as well. Since parents are their child's first and most important educators, it is vital that they feel comfortable having a clear dialogue with their child's teachers. Paula encourages feedback so that teachers and parents can learn from each other and provide what is best for the child. Teachers should never stop learning and striving to improve their teaching methods and classroom environment. Her hope is that parents and teachers can work together to set their children on an exciting path into their future.
Education/Certifications
BA in Art from University of Massachusetts in Boston
Lead Teacher Certificate from Hesser College in Nashua
Experience
2013 – Present Lead Teacher, Preschool 3s, World Academy
2012 – 2013 Afternoon Assistant, Preschool 3s, World Academy
2010 – 2012 Lead Teacher, Preschool 3s, Apple Blossoms, Merrimack
2008 – 2010 Afternoon Teacher, Preschool 3s, Apple Blossoms, Merrimack
"Thank you so much for making my days in school so much fun. I love going to school and love spending time with you. You are always there to help me and make learning so much fun!"
- EMERY CARDOSO